CLOUD MOBIL
The Niederösterreichische Landesausstellung took place between 30 March and 10 November 2019 in Wiener Neustadt and is entitled "World in Motion!". The venues were the Museum St. Peter an der Sperr and the revitalised Kasematten, in which the audiovisual installation "Cloud Mobil" deals with the present and future of our mobility.
The installation transforms a vault of the casemates into a projected vehicle constantly moving through an abstract space: a mobile with a dynamic visual inner life generated by a growing data cloud. This refers to the well-known "Spaceship Earth" metaphor of the US economist Henry George. The playful approach opens up aspects of the subject of mobility that are otherwise difficult to convey, such as environmental or health effects.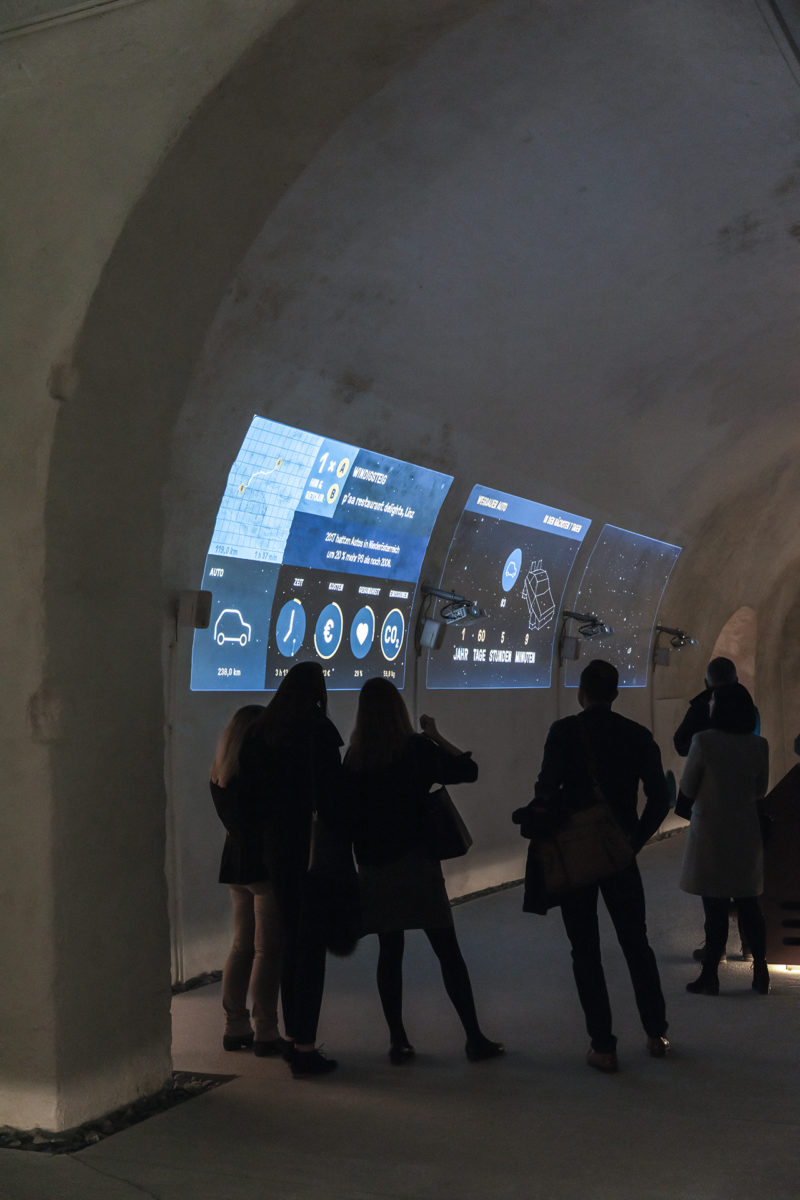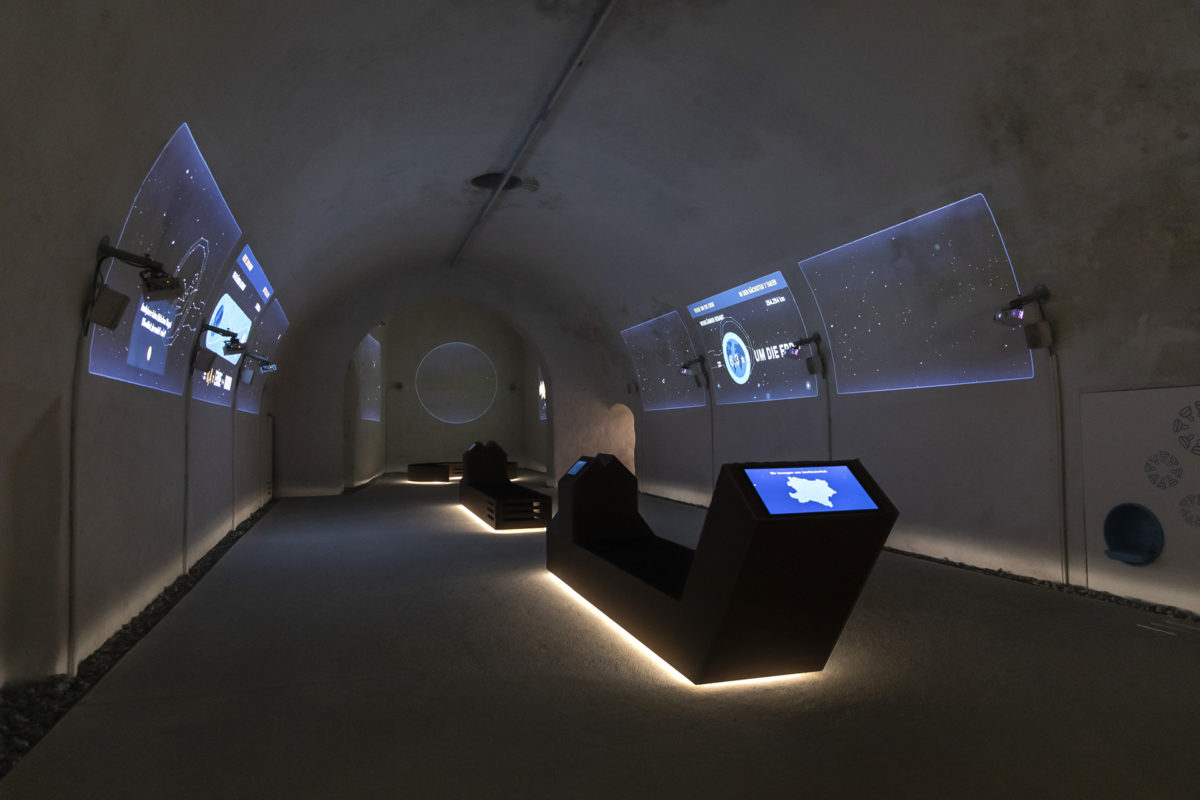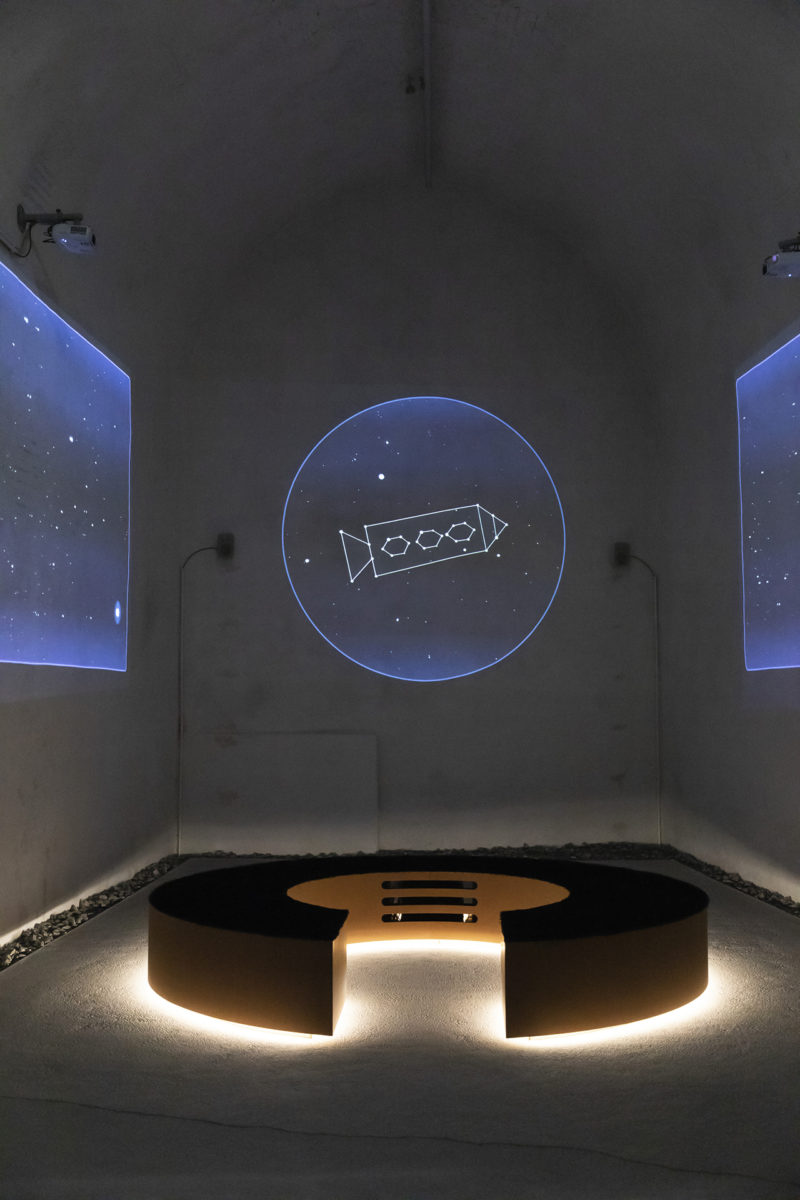 The Cloud Mobile is divided into two main areas, the MASCHINENRAUM and the COCKPIT. The MASCHINENRAUM deals with everyday mobility in our time. Individual decisions are linked in a multi-layered information design with the effects of our collective mobility. At interactive terminals, visitors have the opportunity to analyse their everyday paths. They can choose between the mobility forms of walking, cycling, public transport, moped and car, some of which are complemented by the options multimodal, car sharing and electric mobility. In addition to the length and duration of the route, the decision is also based on costs, effects on individual health and the respective CO2 emissions.
On the middle windows of the Cloud Mobil all routes are visualised in a modular way. Various emergent indicators of mobility are shown, such as the sums for duration, length and costs or the frequency of use for means of transport. In addition, the effects of the routes indicated on the environment and health are described. This makes the systemic consequences of one's own mobility behaviour comprehensible and lays the foundation for well-founded everyday decisions.
In the COCKPIT, visitors can finally pause and travel along the road to the mobility of the future. They encounter abstract constellations representing futuristic forms of mobility and are confronted with questions aimed at the future and the sustainability of our transport system, such as: "Will the car be a thing of the past in the future?", "Will I soon be on holiday on Mars?" or "How much mobility can I afford in the future?". The future of mobility is created here in the minds of the viewers.